In 1985, the UK was home to a mere 457 supermarkets. Their sparse presence, coupled with less than 40% of households owning a car, sustained an pattern of local shopping that had endured for generations, built on multiple independent neighbourhood retailers – the local butcher, fishmonger, grocer and baker.
In the intervening thirty-six year period, shopping has become defined by hub and spoke supply chain models, with large, central distribution centres supplying a variety of differing store formats that are now within the convenience radius of every UK home. This shift has seen £205b of trade passing through the 11 largest supermarket chains each year. But while store proximity grew, another paradigm shift was underway – the move to online retail and home delivery.
In many ways, this change to home delivery – which now accounts for 12% of supermarket sales and twice the amount of consumer electronics that are traded by stores – is built on the same central distribution centre framework. The only difference is the retail 'end' point, in other words the customer's front door taking the place of the supermarket.
But the next stage of this accelerating change in retail marks a return to neighbourhood-centric shopping; hyperlocalisation dispenses with the need for large, central warehousing and instead focuses on high speed, high convenience deliveries from local retailers to nearby customer doorsteps – typically within a radius of around 6km. And in order to achieve this speed, stock needs to be held by local retailers and they, rather than large warehouses, pick and pack for customers who opt for home delivery rather than in store shopping.
The challenge that hyperlocalisation presents is how to deliver small baskets of shopping cost-effectively. While large online retailers can drive economies of scale into their van-based delivery services, independent retailers who make up the backbone of hyperlocal supply do not have the same opportunity. But the pandemic coincided with the rise of aggregated, multi-franchise bicycle delivery services which sustained many restaurants by giving life to a hyperlocalised model.
But while bike deliveries have been a boon for restaurants, the bicycle delivery model has a number of structural problems for wider retail application, foremost among these the overhead cost of the rider and the payload limitation that enforces a 'return-to-base' approach to deliveries made by bike or moped. StreetDrone's solution to promote hyperlocal deliveries neatly contends with all these issues – and provides a bunch of benefits in addition.
The Pix-E is an electric driverless delivery pod that operates at low speeds (typically well below 20mph speed limits) using public roads. App-based management of Pix-E allows the lockers to be loaded at the store front of local shops and delivered to customer kerbside without need for packaging, without the cost of a driver or rider and the 8 locker payload allows multiple deliveries (and collections) without returning to base.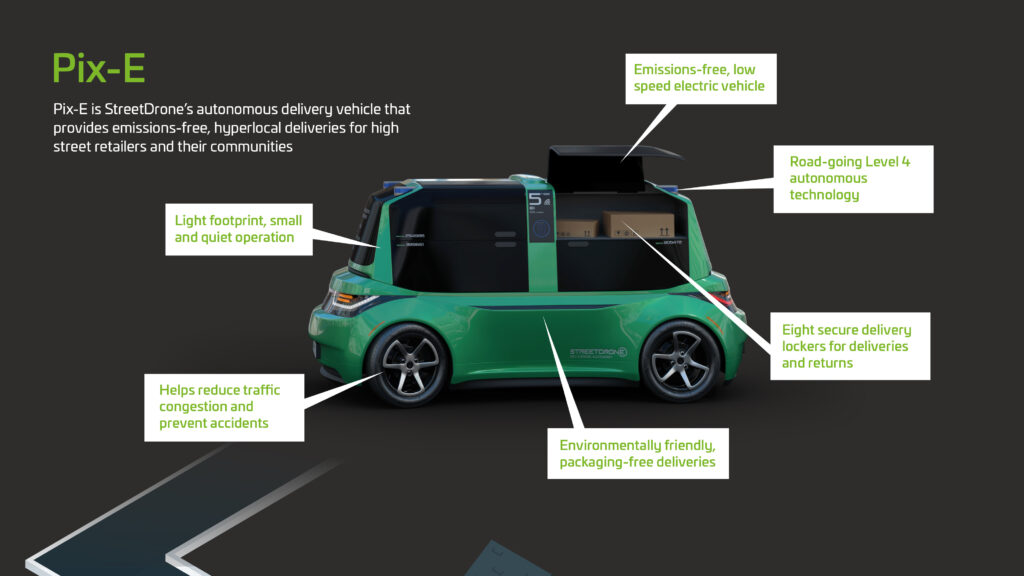 Pix-E's technology is based on low speed application of Level 4 autonomous vehicle operation using an established OEM heavy quadracycle platform (specifically, a Renault Twizy). Both the low speed, which reduces the engineering complexity of the self-driving platform, and the use of validated hardware means that Pix-E is technically feasible in the near term. Working with one of its investors, the High Street retailer wilko, StreetDrone aim to have the Pix-E's autonomous technology operational by 2023.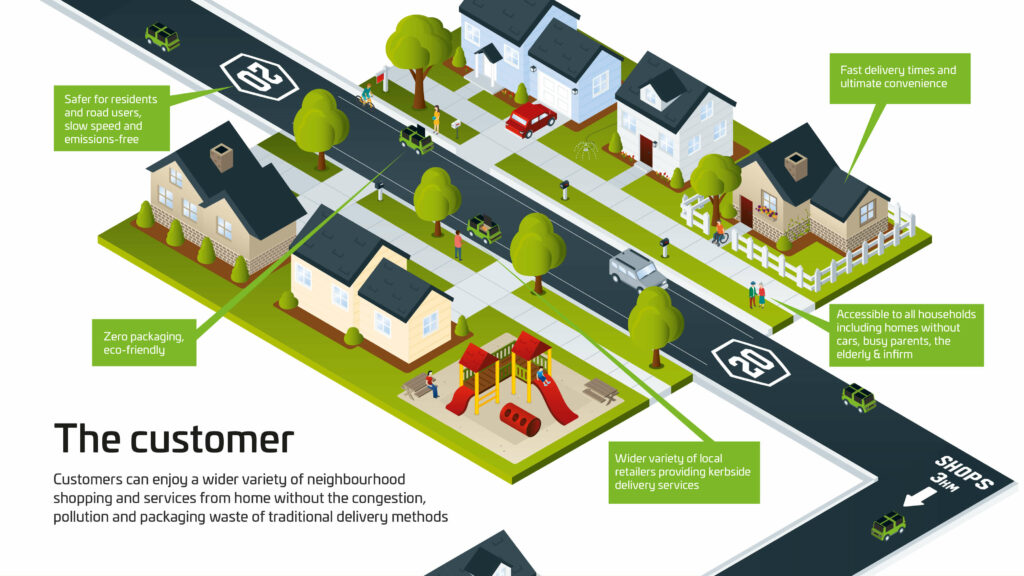 The close-at-hand Pix-E solution promises lower delivery costs and significantly faster delivery times since there is no requirement to return to base between each drop; the driverless Pix-E vehicle also efficiently manages not just deliveries but also returns in the same manner and has a wide variety of use cases from groceries to prescription deliveries.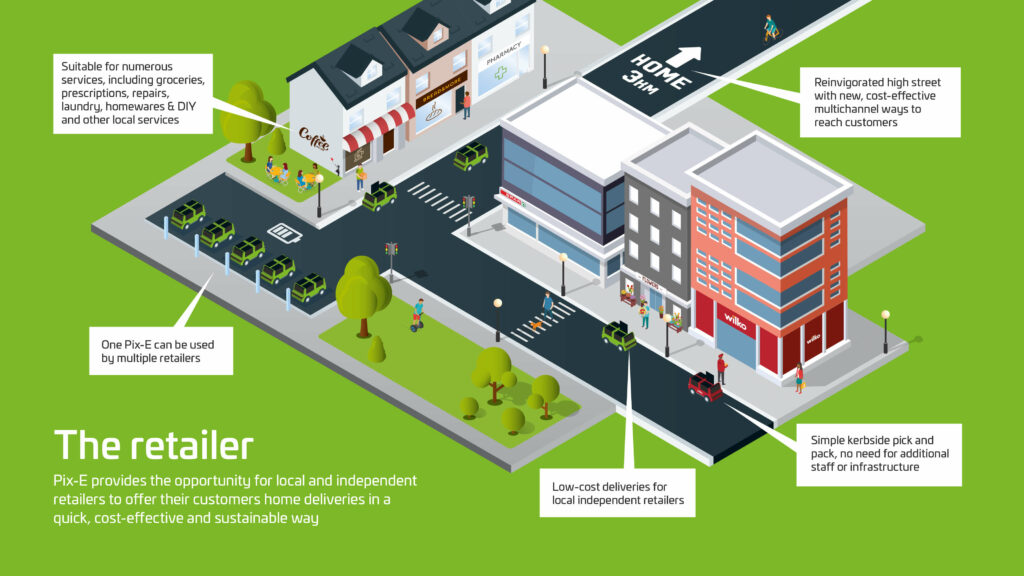 Clean, quiet, small and unobtrusive, emissions-free Pix-E also helps to power home deliveries while countering the exponential rise of diesel delivery vans. But perhaps just as important as the viability of the business model and the accrued environmental benefits, Pix-E's autonomous deliveries allow local shops to provide customers with instore or at home choice that until now has been the preserve of only the largest retailers. Pix-E's capacity to return households to neighbourhood shopping promises the long overdue reinvigoration of the UK's High Streets.