With its traditional reliance on human inputs, industrial logistics has until recently been regarded as a problem child of industrial automation. Industry 4.0 has seen many processes scale to high levels of automation from robotic production at one end of manufacturing to automated order, pick and pack at the other. With 69% of company boardrooms demanding better hyperautomation to improve quality and productivity while reducing cost and environmental impacts, the automation of industrial logistics is about to step into the light.
For StreetDrone, experts in automating both first mile and last mile deliveries, the key technical driver that is enabling industrial logistics to take its seat at industry 4.0 table has been a staged approach to the deployment of autonomous vehicles.
Mike Potts, the company's CEO explains. "If we look at 'moving' passengers from place to place in driverless vehicles, the technology companies pursuing this ambition set a lofty objective of aiming to replace a human driver in a single step. Our approach to automating the way vehicles deliver goods efficiently in ports, freight yards and at manufacturing facilities has been far more pragmatic. We automate when our technology readiness is fit for purpose and ready to deploy. Simply put, we deliver smart automation in stages."
This 'ready, steady, go approach' is best demonstrated by the company's automated HGV delivery work at the Nissan Sunderland plant in the UK. StreetDrone is one of the automation partners operating driverless yard tractors that move containers of vehicle parts from delivery warehouses to Nissan's vehicle assembly lines. The repetitive driving of articulated goods vehicles along an arterial route on the manufacturing site is managed by driving robots that are a useful substitute for scarce HGV drivers.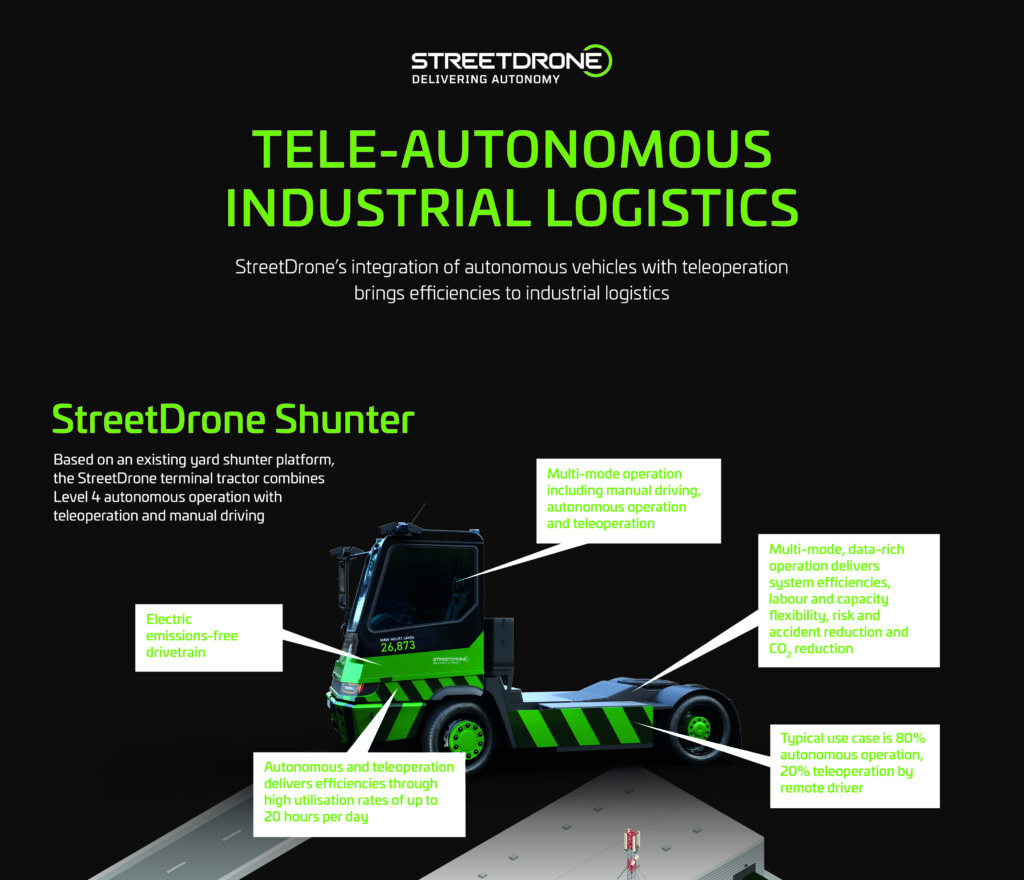 The scope of the automation however does not include a complex reverse park operation for the trailer to draw up to the unloading bay; while StreetDrone have confidence that this more skilled manoeuvre will in time be automated, what characterises their distinct approach is to automate in stages. So their hybrid solution (until the autonomous systems are safe and capable to manage this operation) is for the vehicle management to switch to a human teleoperations driver for the last and more complex part of the operation.
Located either onsite or remotely, the teleoperations driver, courtesy of low latency, high-speed connectivity to the vehicle's operating systems, is able to perform the reverse parks using onboard cameras and sensors from a driving pod configured to resemble a typical HGV cab with surround screens replacing the driver's view through the cab windscreen. While teleoperations stops short of full automation, each teleops driver is capable of managing a fleet of up to ten trucks and thus makes a significant contribution to the automation productivity objective.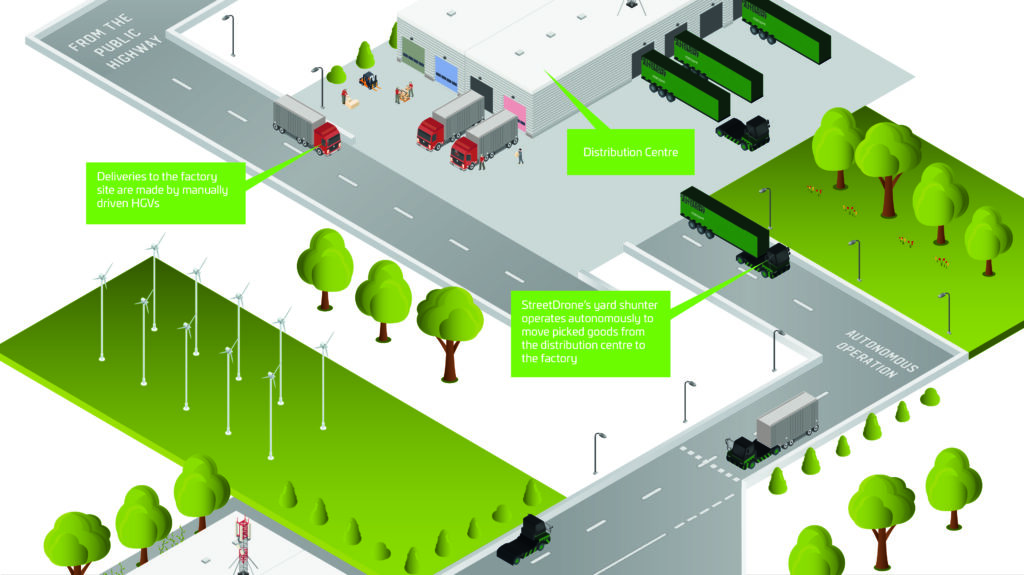 The blend of autonomous driving with teleoperations provides a tiered capability that StreetDrone have worked hard to integrate. Swapping between these two modes of operation presents a number of technical challenges and wider safety considerations, not least the need to keep both driving modes cybersecure and handover protocols clear. The company recently undertook public road trials to switch two live vehicles between manual, teleoperated and autonomous driving modes to validate a seamless method of mode change as well as to test the environment cybersecurity developed by security partners, ANGOKA.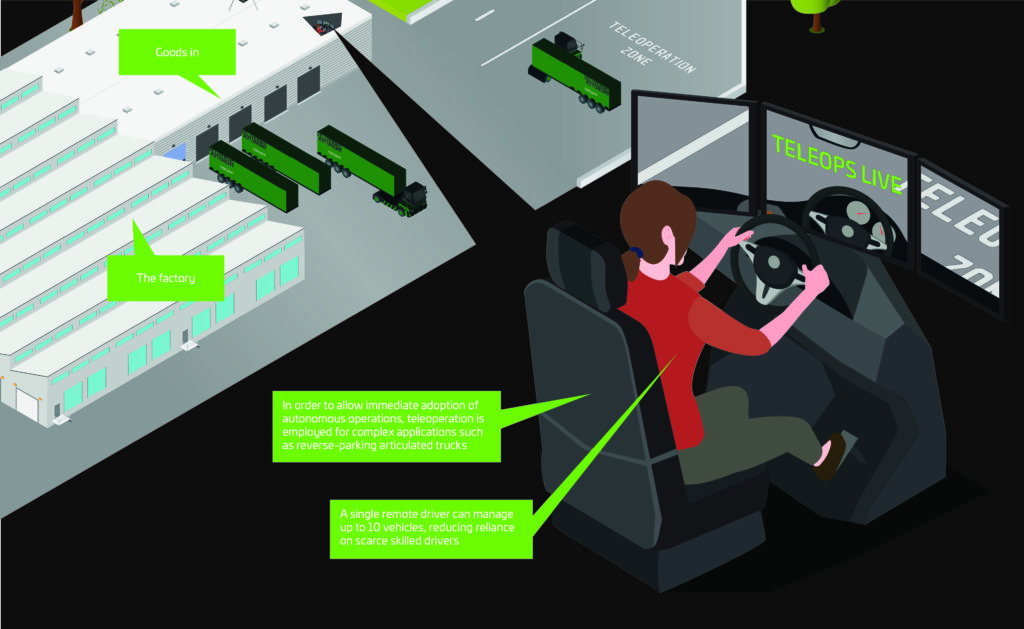 Potts explains that StreetDrone's ready, steady, go approach speeds deployment to deliver the desired productivity gains in a safe manner, but also brings the additional benefit of preserving the value of in-service hardware – in this case high unit cost HGV tractors – by adapting manual vehicles for automation during their useful lifespan. "Automation is all about the yield, and generating heavyweight capex requirements for new machinery when a company is looking to achieve reduced costs through automation makes no sense. Our methodology is distinct as it builds a pathway for autonomous operations to deliver savings immediately, keep overheads light and ensure the business ambition is matched with technology readiness."
ResearchAndMarkets.com estimate the global logistics automation market to be worth USD 104.23 billion in 2026, doubling over the next five years. In this drive for efficiency, some of this value will be derived from 'beyond the warehouse.' However, in the bid to automate industrial logistics, zeal should not get ahead of the ability of the technology to deliver the required outcome.